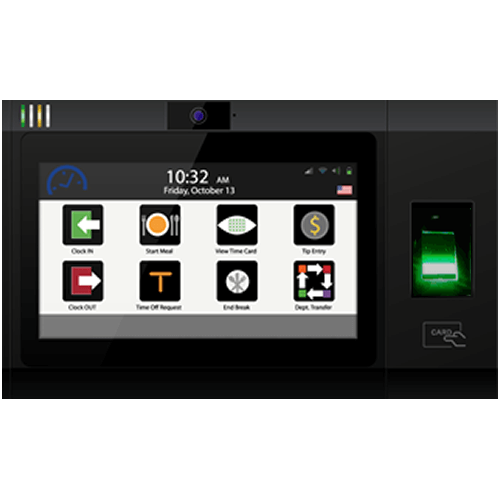 Biometric Employee Punch Clock
Are you looking for a reliable and secure way to track employee time and attendance? Consider a biometric employee punch clock from TimeTrak. Our biometric time clocks use advanced technology such as fingerprint and facial recognition to ensure accurate and efficient clock-ins and outs. Plus, with real-time data and reporting, you can easily monitor and manage your workforce from one centralized location.
Don't settle for outdated and unreliable time tracking methods – upgrade to a biometric employee punch clock from TimeTrak today.
Our latest model fingerprint time clock includes a touch-screen display and an integrated camera for added security.
Facial Recognition Punch Clock
Introducing the latest in employee time tracking technology – the facial recognition punch time clock! Say goodbye to manual time entry and buddy punching with this cutting-edge solution from TimeTrak. Our facial recognition punch time clock uses advanced algorithms to identify employees based on their unique facial features, ensuring accurate and secure time tracking.
The system is easy to set up and use, and can be customized to meet the specific needs of your business. With real-time reporting and analytics, you'll have the insights you need to optimize your workforce management and boost productivity.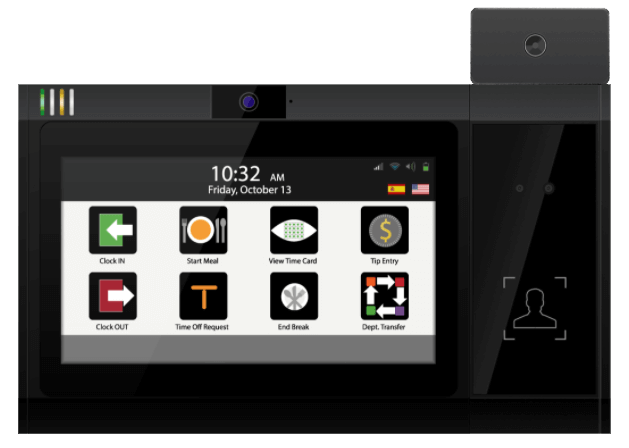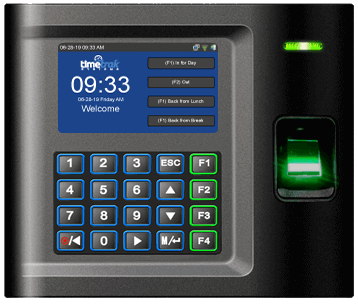 Fingerprint Time Clock Readers
Biometric Fingerprint readers are quickly becoming the preferred method for capturing employee time and attendance. These biometric time clocks offer security against time theft or buddy punching and eliminate lost or worn-out employee time cards.
Our latest model 915 (pictured) includes built-in wifi for fast and easy installation.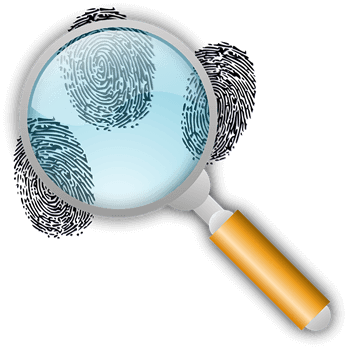 Biometric Fingerprint Technology
Biometric technology helps create more secure workplaces by verifying the identity of employees as part of the data collection process. But while the benefits of biometrics are well documented, some employees may still be concerned about the privacy issues surrounding this technology.
Unlike the technology used by Automated Fingerprint Identification Systems (AFIS) for law enforcement purposes, Our biometric terminals are designed to facilitate the collection of time clock records pertaining to employees' activities, do not capture and store actual fingerprint images.
Instead, our terminals collect only sample data, convert it into binary data using mathematical algorithms and then store only a digital representation of the fingerprint (not an actual fingerprint image), from which it is virtually impossible to recreate the original image.
Still not sure which biometric option is best for your company?
Try our helpful side-by-side feature comparison.