TimeTrak's new facial recognition time clock system with an optional thermal scanner is the ideal time and attendance solution to ensure the safety of your employees. This time clock features the very latest in face recognition technology which includes a face-mask detection option. The optional thermal scanner works in conjunction with the time clock and can prevent potentially sick employees from clocking IN for work.
Touchless technology ensures safety is a top priority.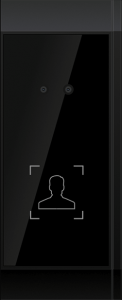 Facial recognition time clocks have been around for many years. However, due to the recent Covid-19 pandemic, they are once again at the forefront of biometric employee time clock options. These clocks feature the very latest matching algorithm which identifies employees in less than 1-second and self-adjusts for changes in the user's appearance.
Facial biometric identification up to 6000 users
Identify registered users in less than one second
Multi-dimensional facial recognition technology
Intelligent algorithm which self-adjusts templates with any feature changes in the user's appearance
Adapts to low light and environments
Optional Mask* detection technology to identify if an employee is wearing a mask.
*Mask detection technology coming soon!
Touchless facial recognition time clocks are only half the battle when it comes to employee safety. Optional thermal imaging adds another level of security by sensing the body temperature of each employee the moment they go to clock In or out for the day.
Remote Body Temperature Detection
Punch Prevention Option
Ensures the Safety of your Employees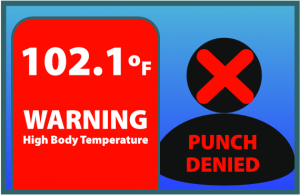 Features
Color LCD screen with Graphical Interface for ease of use
Rugged scratch-resistant optical sensor
One-touch 1-second user biometric verification
Stores 5,000 templates and 100,000 transactions. "Unlimited" when online.
Reads fingerprints and/or PINs
Optional integrated Prox/HID/Mifare card reader
Built-in Wiegand in/out and Ethernet ports
Optional integrated Wi-Fi available
Relay contacts for alarm, bell, lock, exit switch, etc
Customizable functions with up to 9 levels of input
Multi-Language Support
Built in bell scheduling
Audio-Visual indications for acceptance and rejection of valid/invalid fingers
| | |
| --- | --- |
| ess – Employee Self-Service | Yes |
| Cloud Capable | Yes |
| Reader / Input | Biometric Finger |
| Reader / Input | Badge (Proximity) |
| Reader / Input | Keypad |
| Reader / Input | Badge (Magstripe) |
| Reader / Input | Badge (Barcode) |
| Communication | Ethernet POE (Power Over Ethernet) – Optional |
| Communication | Ethernet |
| Communication | WiFi |
| Function | Configurable Functions |
| Function | Relay (Bell / Schedules) |
| Function | Period to Date Hours Lookup |
| Function | Poll Recovery |
| Function | Multi-Level Data Input |
| Function | Configurable Input Devices (Keypad, Badge) |
| Function | Last Punch Lookup |
| Function | Employee Message Display |
| Function | Employee Schedule Lookup |
| Function | Auto Daylight Savings Adjustment |
| Function | Duplicate Punch Detection |
| Function | Group Punch Processing |
| Function | Date / Time Override |
| Function | Relay (Door / Transactional) |
Features

Color LCD screen with Graphical Interface for ease of use
Rugged scratch-resistant optical sensor
One-touch 1-second user biometric verification
Stores 5,000 templates and 100,000 transactions. "Unlimited" when online.
Reads fingerprints and/or PINs
Optional integrated Prox/HID/Mifare card reader
Built-in Wiegand in/out and Ethernet ports
Optional integrated Wi-Fi available
Relay contacts for alarm, bell, lock, exit switch, etc
Customizable functions with up to 9 levels of input
Multi-Language Support
Built in bell scheduling
Audio-Visual indications for acceptance and rejection of valid/invalid fingers

| | |
| --- | --- |
| ess – Employee Self-Service | Yes |
| Cloud Capable | Yes |
| Reader / Input | Biometric Finger |
| Reader / Input | Badge (Proximity) |
| Reader / Input | Keypad |
| Reader / Input | Badge (Magstripe) |
| Reader / Input | Badge (Barcode) |
| Communication | Ethernet POE (Power Over Ethernet) – Optional |
| Communication | Ethernet |
| Communication | WiFi |
| Function | Configurable Functions |
| Function | Relay (Bell / Schedules) |
| Function | Period to Date Hours Lookup |
| Function | Poll Recovery |
| Function | Multi-Level Data Input |
| Function | Configurable Input Devices (Keypad, Badge) |
| Function | Last Punch Lookup |
| Function | Employee Message Display |
| Function | Employee Schedule Lookup |
| Function | Auto Daylight Savings Adjustment |
| Function | Duplicate Punch Detection |
| Function | Group Punch Processing |
| Function | Date / Time Override |
| Function | Relay (Door / Transactional) |