Geofence Time Tracking App
In today's modern work environment, businesses need to be able to track employee time and attendance accurately and efficiently, regardless of where their employees are working from. Geofence time tracking apps offer a solution to this challenge.
Simple and intuitive design
Prevents clocking from unauthorized locations
Easy 1-Click punches
Geofence Security
A geofence time tracking app uses GPS technology to create a virtual boundary around an approved job site or location. When an employee enters or leaves the geofence, the app automatically clocks them in or out. This eliminates the need for manual timekeeping and ensures that employees are only clocking in and out from authorized locations.
GPS location on each punch
Map report with filtering and punch detail
Ideal for field employees
GPS Time Tracking App
Our GPS enabled time clock app is designed to streamline your time and attendance management, regardless of the size of your workforce.
Say goodbye to manual processes and hello to accurate payroll with minimal effort.
Our simple and 100% web-based design makes it easy to get started and have your team up and running in minutes. Sign up for a free 14-day trial today!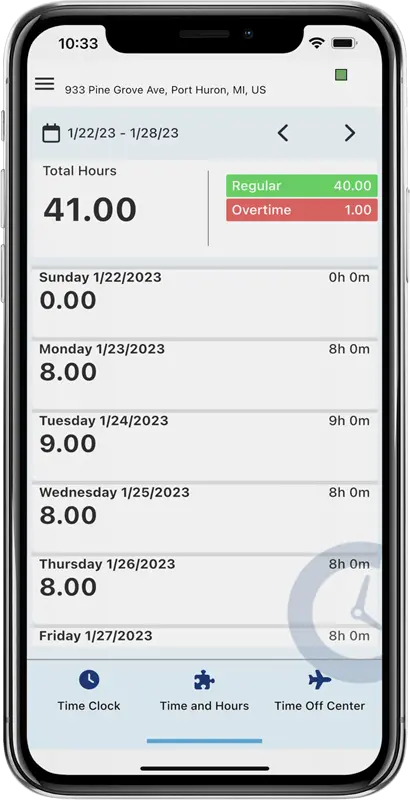 Employee Self-Service
With our geofence time tracking app, employees can easily access self-service features to retrieve essential information like total hours worked, time punches, and time off requests.
By enabling employees to view their self-service information, they can ensure accurate payable hours and eliminate the time-consuming task of relaying this information to their manager.
Current and History Hours
PTO Balances
Check the Status of Requests
The Employee Time Clock Reinvented!
Multiple Time Clock Options
Combine multiple clocking options for your ENTIRE workforce.