Turns an ordinary tablet into an employee time clock in just minutes!
If you're looking for an easy-to-use employee time clock software, TimeTrakGO has you covered. Our simple time clock solution provides everything you need to track employee hours accurately and efficiently.
With our web-based time clock software, your employees can easily clock in and out using a computer or mobile device. Our software supports a variety of time clock options, facial recognition, virtual kiosk app, and smartphone apps. Plus, there's no need to worry about installation or maintenance – everything is managed through our secure cloud-based platform.
Easy Online Time Clock for Employees
Reduce the burden on your supervisors as well as your payroll/HR office with a simple and easy online time clock system. Our unique graphical employee timecards make it easy to identify missing punches or exceptions such as absent or tardy, reducing the amount of time spent reviewing time cards.
TimeTrak's online time clock for employees is super easy to use and won't cause a headache. There is no installation necessary, meaning your company can start using it right away to instantly increase employees' productivity. You also don't have to worry about updates because our online employee time clock updates automatically, and TimeTrak takes care of all maintenance, IT work, and troubleshooting.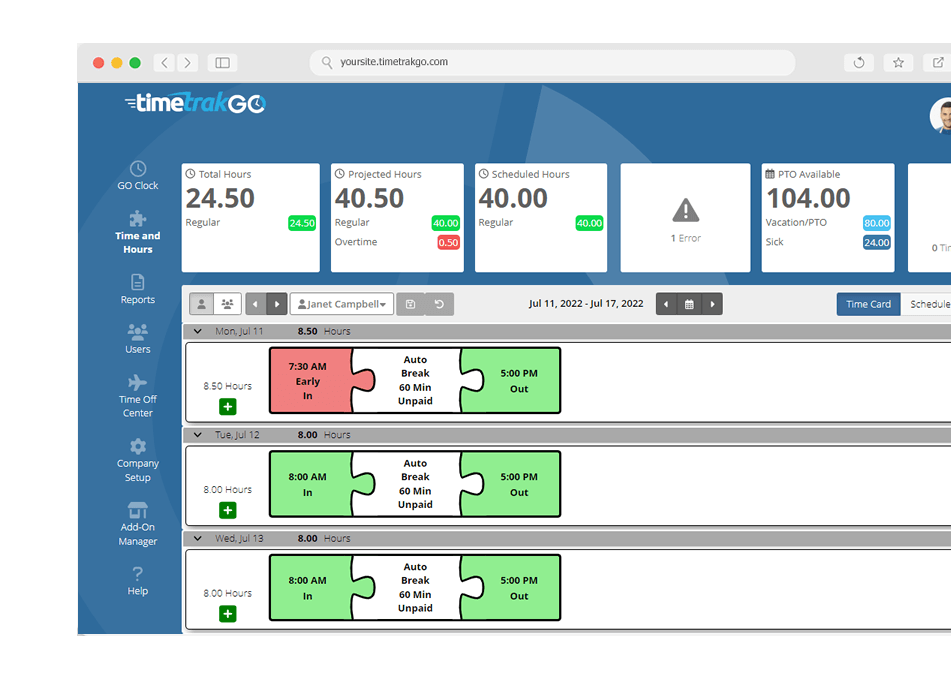 We reinvented the employee time clock.
TimeTrakGO's employee time clock software also provides a range of features to help you manage your workforce effectively. With real-time attendance tracking, you can easily monitor employee schedules, manage PTO requests, and track employee hours. Our reporting features give you the data you need to make informed decisions about your workforce.
Timely and Accurate Timesheets
If you're looking for a simple, reliable, and cost-effective employee time clock software solution, look no further than TimeTrakGO. Sign up for a free trial today and experience the benefits for yourself!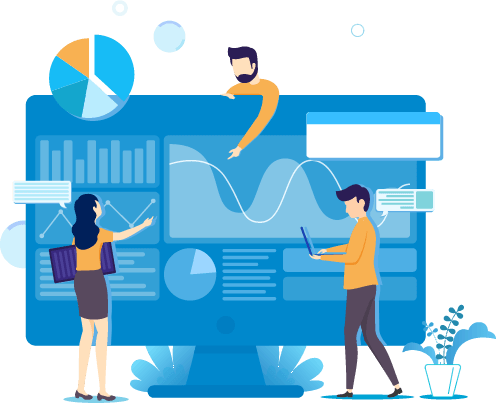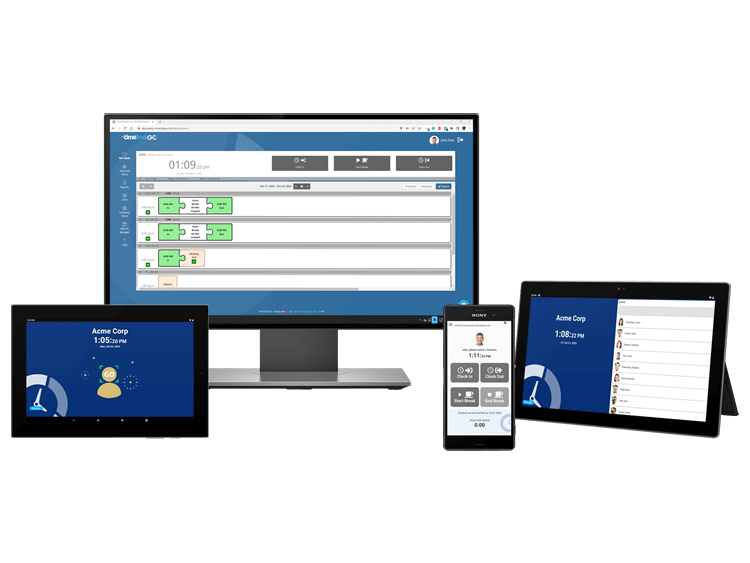 Web-based Online Employee Time Clock
This easy time clock system also offers several convenient time clock options to choose from. Whether your employees are in one central location or spread out working remotely, we have a solution for your business.
Web\PC Time Clock
iPhone and Android Mobile Apps with GPS 
Virtual Time Clock Kiosk