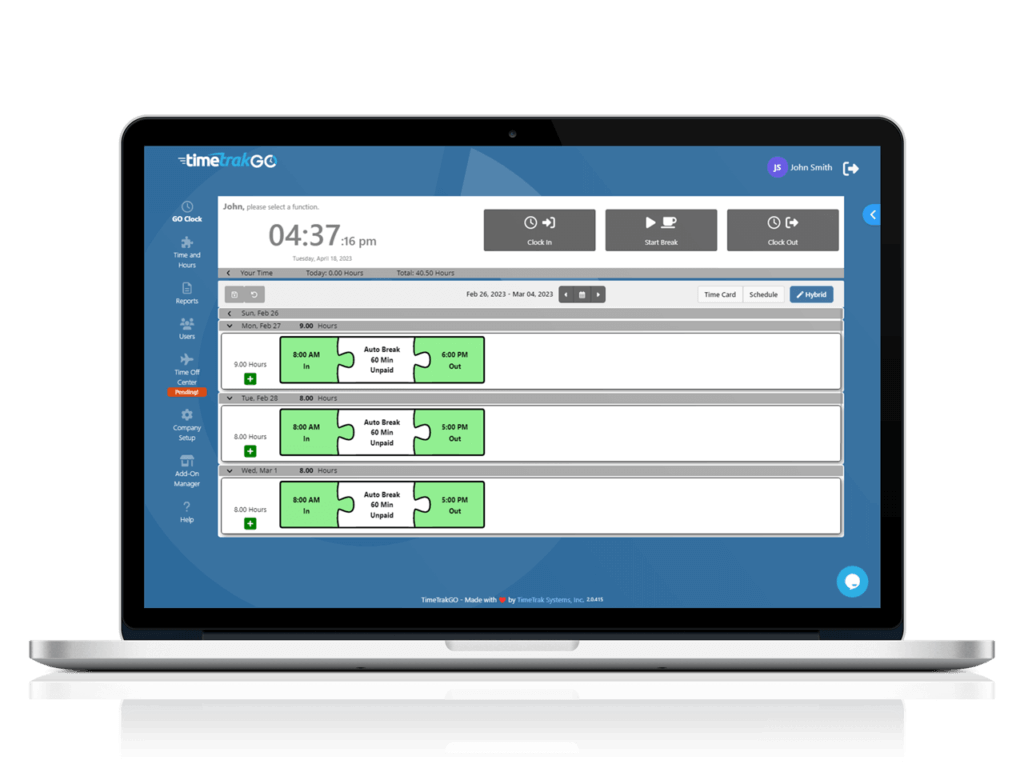 Time Clock System for Remote Employees
In today's dynamic work landscape, where an ever-growing number of employees are adopting remote work arrangements, the significance of a dependable and efficient remote employee time clock software cannot be overstated. This is precisely where TimeTrakGO excels as your go-to solution.
Our remote employee time clock software is thoughtfully designed with user-friendliness in mind, offering a seamless and intuitive means to meticulously record employee hours. With TimeTrakGO, the entire process is web-based, eliminating the need for lengthy installations, and you can bid farewell to concerns about software updates. Our online employee time clock seamlessly updates itself, and we assume full responsibility for all essential maintenance and IT tasks, including troubleshooting.
If you're looking for a solution to your business's remote worker time tracking needs, TimeTrakGO is the perfect choice. Try it for free today and experience the benefits of accurate and efficient time tracking for your remote workers.
Time Clock for Remote Workers
TimeTrakGO is the ideal solution for businesses looking to simplify their time-tracking process for remote workers. Our web-based time clock system is designed to alleviate any burden on your business's payroll/HR department, making clocking in and out a breeze for remote workers, increasing productivity, and reducing errors.
Our software is not just limited to time tracking. Remote employees can also request vacation time and view paid time off using our simple and easy-to-use software. This makes it easier for both the employer and the employee to manage their time effectively.
With TimeTrakGO, you can streamline your timekeeping process and increase efficiency, allowing you to focus on other important aspects of your business.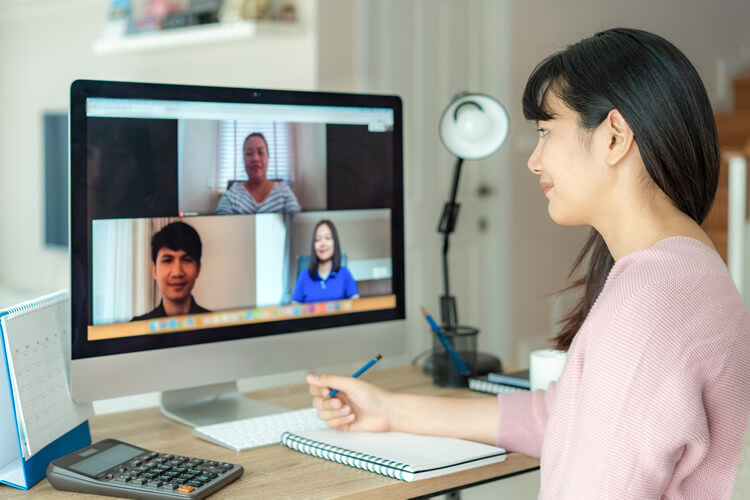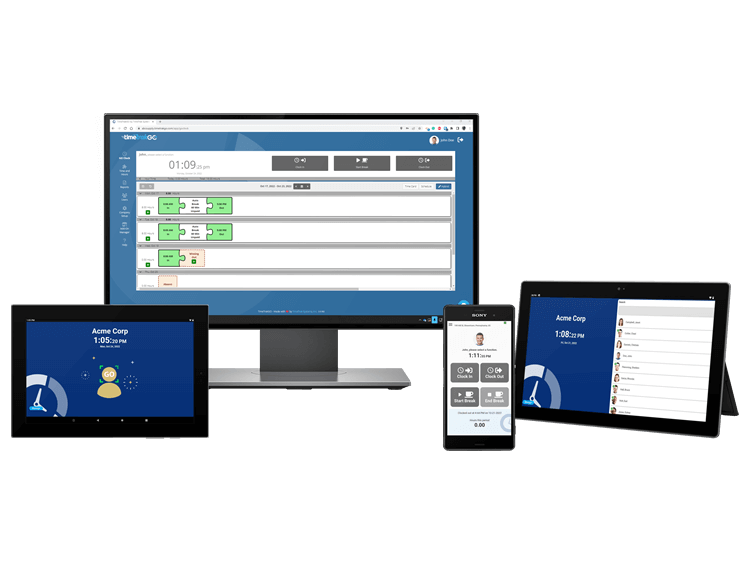 Simple Time Clock for Remote Employees
If you're looking for a simple and efficient way to track employee hours in a small office or any environment where each employee has their own computer, TimeTrakGO's individual employee time clock software is the ideal solution.
With our software, employees can log in from their own computer and easily clock in or out daily. Our user-friendly interface allows employees to view their time cards, hours, schedules, and even request PTO time.
To ensure the security of your data, TimeTrakGO includes device authorization features that allow you to secure which computers or networks are allowed to access clocking features. This gives you peace of mind knowing that only authorized personnel can access sensitive information.
Our time card software is designed to be simple and easy to use, allowing you to streamline your time-tracking process and improve efficiency in the workplace. With TimeTrakGO, you can focus on other important aspects of your business while we take care of your time-tracking needs.
Try TimeTrakGO today and see how it can benefit your small office or any environment where each employee has their own computer.
Timecards, Hours, Schedules
Exceptions such as Absence and Tardy 
Projected Hours (Helps with monitoring overtime)

Start Saving Time and Money Today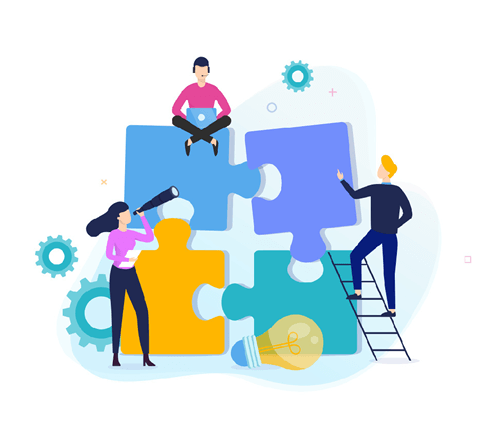 Step 1
Start your 14-day Free Trial
Creating a new account is super simple and can be done in just a few minutes! Once your system is ready, log in and answer a few quick timekeeping questions. Support is included FREE and we're here to help if you need setup assistance.
Don't worry, we have a "Bulk Add" feature to help you save even more time getting the system up and going. Employees can be invited to TimeTrakGO automatically by email or if you prefer to use the time clock kiosk, they can create their own PIN number later.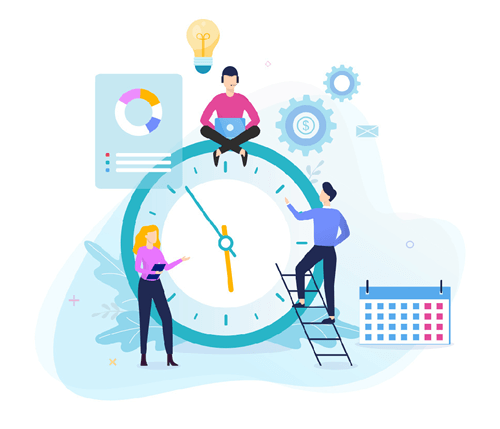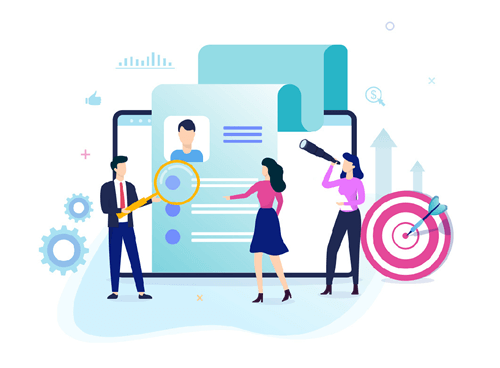 Say goodbye to messy hand-written timesheets or complicated time cards. This innovative approach to employee time tracking helps you visualize the work-week like no other timekeeping system can.