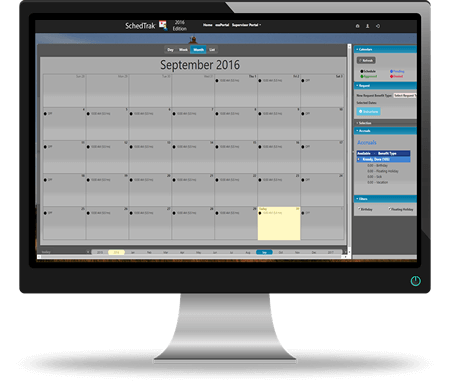 Employee Vacation Tracking Software
Use the Employee Vacation tracking software to generate employee PTO (paid time off) time earned, as well as deduct committed and taken time while maintaining up-to-the-minute balances. Paid Time Off (PTO) time can be earned yearly or each pay period as either a percentage of time worked or flat amounts. Both can vary by years of employment.
PTO and Vacation Tracking Software
The PTO Tracking System software can serve as the master for employee PTO time, or it can import on a pay period basis, updating available hours from your HR\Payroll system.
Hourly, Daily, Weekly, Pay Period, Monthly, and Yearly Earnings
Earn as you go PTO Accruals or Bank for Next Year
Automatically Increase Earnings Based on Seniority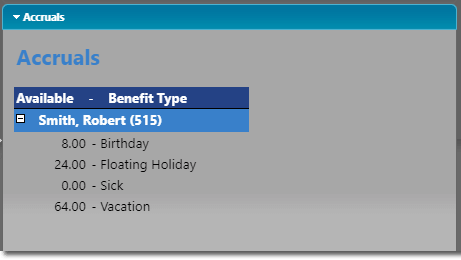 Instant Notifications and Warnings
Having employee Paid Time Off (PTO) benefit accrual details accessible in the Time and Attendance application is vital for supervisors/managers to have instant access to the time off details. Each PTO code can be set up to check and prevent a supervisor from exceeding available hours, check and allow a supervisor to exceed available hours only after overriding a warning, or not check at all.
Maintain Up-to-the-Minute PTO Balances
Prevents Overpay  Situations 
Available, Committed, and Taken Totals

Employee Access to PTO Accruals
Empower your employees with the use of self-service access to their Paid Time Off (PTO) balances. No longer will you need to answer questions such as "How many vacation days do I have left?" or "Did I use all my sick days?"
Available on many of our Employee Time Clocks
In-App on our iPhone and Android Software
Or on the web in our InfoPlus Portal
PTO and Vacation Reporting
Report on Available, Committed and Taken hours as well as Total Accumulated Hours. Additional reports include the ability to identify employees with excessive or little benefit time remaining.
Configurable Date Ranges
Filter for Specific PTO Codes
Greater-Than\Less-Than Report Options