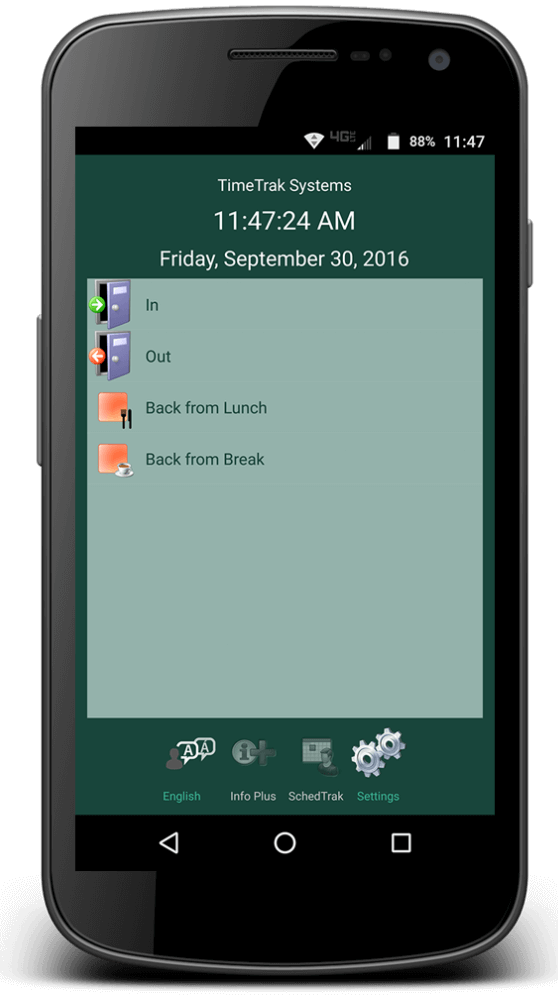 Mobile Time Clock App for Employees
The mobile time clock app allows your employees to use their iPhone devices to make a secure connection to your TimeTrak system. Our mobile apps are designed to provide employees with the functionality of a traditional time clock in the palm of their hands.

Time Clock App for Smartphone
With or without access to cellular or Wi-Fi networks the mobile time clock app will continue to function in offline mode, storing information locally until data access is restored.
Basic Time Clock Functions including: In, Out, Lunches and Breaks
Labor Transfers such as Department and Job
Employee Data Input for Tips or Expenses
iPhone Employee Time Clock App
The app-based employee time clock software enables you to turn an ordinary smartphone or tablet into a full-featured employee time clock and self-service station. Standard employee timekeeping functions such as IN, OUT, and LUNCH are supported, along with a variety of labor and job transfer options.
Record Hours by Job, Department, Job, Task, and More
Transfer Employee Hours Directly to Payroll
Capture Errors Such as Tardy or Absent

Flexibility Beyond Compare
TimeTrak allows you to adapt the system to your environment, your terminology, and your editing, review, and reporting processes. TimeTrak permits you to name your fields and uses those naming conventions throughout the system, on screens, and in reports.
Looking for a Simple solution for employee time tracking?
Don't need all of the TimeTrak Features? Or just want basic time tracking?
TimeTrakGO is our NEW simple online employee time clock system.
Mobile Employee Time Clock App
More than just a simple time clock app, our mobile app provides the employee access to important self-service details such as time cards and schedules. This information is easily accessible on our smartphone application.
Basic information such as TimeCards, Hours, Schedules
PTO Accrual Balances
Attendance Points\Infractions 
Mobile Clocking In System
Employees are also encouraged to use our mobile app to request paid time off (PTO) using a unique graphical interface. Request notifications are instantly sent to management for approval.
Easily View Current PTO Balances
Create\Cancel Requests
View a Complete History of Requests
Still not sure which option is best for your company?
Try our helpful side-by-side feature comparison.