New Features and Design
Port Huron, MI; June 21, 2016 – TimeTrak is pleased to announce the release of the latest version of our flagship TimeTrak product.  As one of our most feature-rich releases, 2016 Edition introduces a new Supervisor client app which includes our TrakIt® modular workspace for both Dashboard and Employee Maintenance areas.  Also added are new and updated reports in the form of printable reports and colorful TrakIt® "plugin reports" used in dashboard and employee maintenance areas.  Report filtering has been enhanced through the use of custom-defined User Filters that allow any number of predefined filter combinations for quicker access to reported data.  Supervisor browser portals were reimagined with the addition of Accordion and Tab layouts that build on the previous stacked only layouts.  This provides more information in the same space giving users a more complete experience.  Employees are now able to, if permitted, edit their time card and schedule in ClocTrak infoPLUS (ess) portals.  SchedTrak, the automated benefit scheduling module, now allows requesting multiple pay codes and request time editing prior to submission.


User Experience Flexibility
TrakIt® plugins allow for user experience flexibility by providing the ability to design your own workspace within TimeTrak.
Our TrakIt-powered modular workspace is now available in our new cloud compatible Client App.  Introduced in our preceding software edition for use in Portals (browser), TrakIt plugins allow for user experience flexibility by providing the ability to design your own workspace within TimeTrak.
 What is a TrakIt®?
A plugin that can be placed in docking zones in the Supervisor or (ess) Employee Self Service areas of both our Portal (browser) product and our Client App (cloud compatible client/server) product.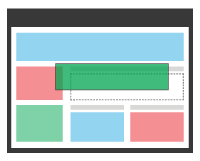 Static or Dynamic
Static TrakIt – View-only "mini-reports" that display relevant information such as hours or exceptions, a listing of recent employee punches.  Information can be presented in several ways including grids, charts, graphs, and gauges.
Dynamic TrakIt – Enable users to interact by updating, adding, or deleting data.  Where allowed by permission, time card editing or schedule editing are examples.
Ultimate flexibility is achieved by offering multiple TrakIts for similar needs. One of the primary tasks supervisors and payroll staff perform is time card editing.  TimeTrak 2016 Edition provides multiple TrakIt's to accomplish editing.  Two examples are:

Grid – spreadsheet style interface with data elements laid out in a grid format
Puzzle Piece – graphical style utilizing interconnecting puzzle pieces to intuitively connect employee punches
Our out of the box TrakIt configuration is designed to provide an excellent user experience.  When you want to try something different just enable a different TrakIt and you have a new way of doing your work.  TrakIt development is ongoing and we will announce new TrakIts as they become available.  Your IT group can even design unique TrakIts for your organization.

---

Enhanced Reporting
Enhanced Reporting
2016 Edition offers even more reports exportable in several popular formats
Reporting capability improvements have been greatly enhanced.
User Filters

Allow any number of filter combinations for quicker access to your desired report data.  Save time by predefining filters instead of setting them up each time a report is run

2016 Edition offers even more reports exportable in several popular formats
New Reports

Threshold Report
Hours Analysis Report
Offer totals for Bi-weekly periods
Graphical Schedule Report
Hours by Transferrable and Employee – An hours report
Hours Pay Code Matrix
Schedule Report
Schedule with Actual Report
2016 Edition offers even more reports exportable in several popular formats
---

Powerful Employee Scheduling
Employee SchedTrak portal requests have been enhanced to include requesting of multiple benefit pay codes in a single request as well as pre-request editing of request times where employees wish to schedule time other than their schedule for specific days.
The new Graphical Schedule TrakIt in the new client app doubles as an employee navigation aide as well as  a handy scheduling tool.  Quick editing is made possible through a grid-style interface that supports schedule templates.  Those schedule templates allow the user to predefine popular schedule overrides and allows the user to pick which template they need to apply to one or multiple day for an employee.


Supervisor Engagement Tools
Included in the new Supervisor Client app are a new graphical exception TrakIt as well as a new Time Card editing TrakIt which allows supervisors to visually see what is happening with each employee.  Multi-Employee client dashboard TrakIts such as the In/Out Board, SchedTrak Requests Grid, Scheduled vs. Actual, and Recent Punches listing allows supervisors to see real-time employee data in one place allowing them to react to employee events such as benefit requests and schedule issues including absences, late arrivals, early departures as they happen.