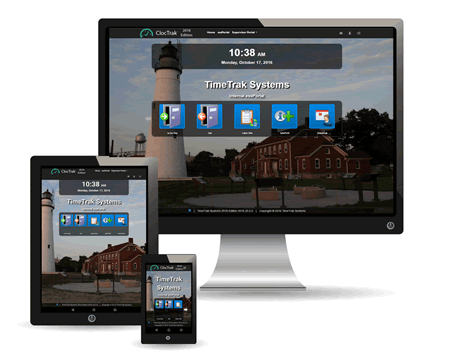 Employee Time and Attendance Solutions
TimeTrak is simply a much more efficient way to handle your Time and Attendance Solution and labor reporting needs. It couldn't be easier to meet payroll policies on shift start and end times, overtime, premium time, holidays, shift differentials, job rate changes, on-call, call back, change and clean-up time, etc.
Time and Attendance System Overview
Automate your scheduling, data collection, exception tracking, calculation of hours, review, editing and approval to facilitate quick transfer of accurate hours to payroll.
Automates even the Most Complex Overtime Rules
Flexible Time Clock Options
Export Directly to Payroll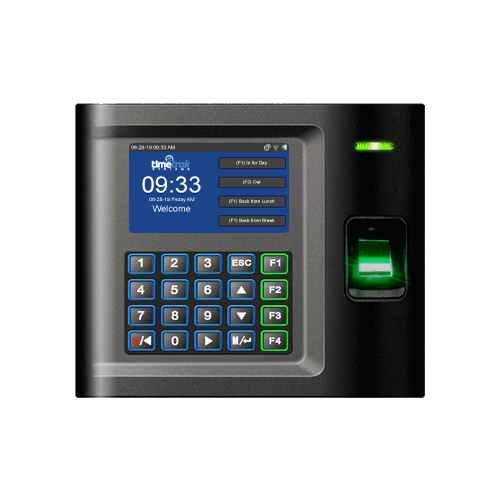 Built-In Employee Scheduling
Schedule each individual employee using TimeTrak's graphical scheduling utility or simply create a master repeating schedule and assign to an employee or group of employees. If enabled, TimeTrak can email alerts to supervisors when an employee fails to show up for a scheduled shift.
Built-in Graphical Scheduler
Daily, Weekly, and Rotational Schedules 
Scheduled vs. Actual Comparison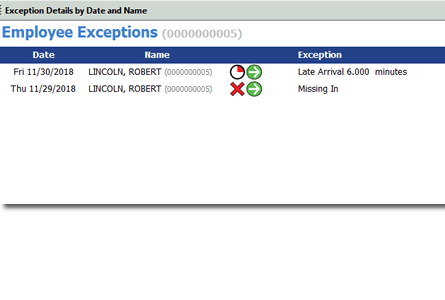 Attendance and Exception Reporting
Over 40 Attendance Exceptions are tracked automatically in our Time and Attendance solutions including Early\Late In Punches, Early\Late Out Punches, Short Lunch, Long Lunch, and absent just to name a few. Users may attach Reason Codes to Exceptions to further clarify the Exception (e.g., "Late In due to traffic"). In addition, a Reason Code may be attached to any Time Card record such as marking an absence as unexcused. Need even more attendance tracking? Our attendance\point system automation tool may be just what you need.
Over 40 Built-In Exceptions
Configurable Grace Periods for Tardy
Company Percentages and Averages Reporting
Physical Time and Attendance Clocks
Whether all of your employees reside in one building or you have multiple locations requiring several employee time clocks, TimeTrak has the technology to keep them all connected.
Physical Time Clocks Such as Fingerprint or Proximity
Virtual Web-based Time Clocks
Mobile Clocking with GPS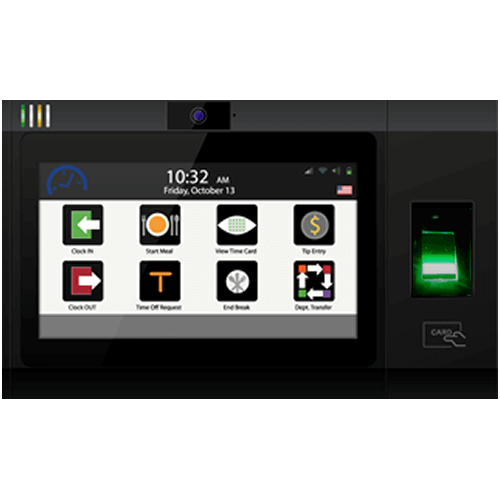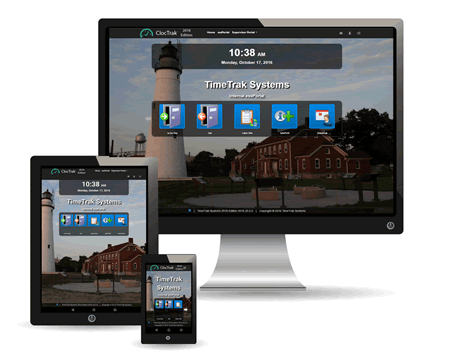 Virtual Employee Time Clocks
TimeTrak also offers several virtual employee time clock options including a browser-based Web Time Clock,  native iPhone \ Android apps, and a Windows\PC Application that works in online and offline modes. Each features a modern and intuitive user interface. All standard timekeeping functions such as IN, OUT and LUNCH are supported, along with a variety of labor transfer options.
Browser-based Web Time Clock
Windows Based PC Time Clock 
iPhone and Android Mobile Apps with GPS